Firm History
Elwin Thrasher, Jr. graduated from the University of Florida law school in 1967. He was admitted to the Florida Bar later that year. After admission to the Bar he served as Assistant Staff Judge Advocate at the USAF Academy in Colorado Springs, Colorado. Following his assignment at the Air Force Academy he served as the Staff Judge Advocate at Zaragoza Air Base, Spain. In 1973 he left the Air Force and moved his family from Spain to Tallahassee, Florida, where he began the private practice of law.
After seven years as an associate or partner in a Tallahassee law firm, in 1980, Elwin Thrasher, Jr. started his own law office. In November 1985, the firm purchased the property at 908 North Gadsden Street. After a couple of months renovating the property, it moved-in to its present location, where it has remained ever since. Elwin was known early-on for his use of the "latest technology", and was often recognized in court for skillfully using it to produce documents that benefited his clients.
In December 1990, Elwin Thrasher, III ("Trey") graduated from the University of Florida's law school. He joined the firm upon graduation from law school and was admitted to the Florida Bar in April 1991. Like his father, Trey has always known that using advanced technology would benefit the firm and it's clients. Trey has an exceptional talent in computer programming and writing software. He has written an application that operates almost every aspect of the firm's operations. As a result of Trey's legal knowledge and computer expertise, the firm is on the leading edge of technology. Client's have on-line access to their files, data, and all scanned images. All files and documents are bar coded, and e-filing is already a routine aspect of the program.
In 1992, Laura Thrasher graduated from Stetson law school. She joined the firm and was admitted to the Florida Bar in September 1992. The firm was then renamed to "Thrasher, Thrasher & Thrasher". In May 2001, Laura got married. Her husband was a Captain in the Army, and is currently a Lieutenant Colonel. She left the firm to be with him as the Army moved them from place to place all over the world. They eventually settled in Tampa, Florida, started a family and have two daughters. After she left (and changed her last name), the firm name was changed to "The Thrasher Law Firm".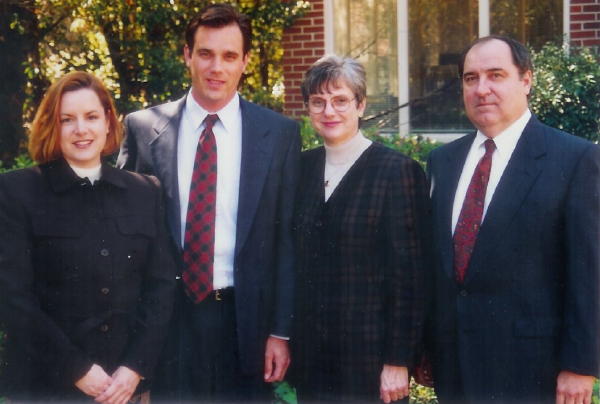 Elwin's wife Carolyn started working with the firm in the late 1980's as Office Bookkeeper and Office Manager. In September 2001, Carolyn was diagnosed with an aggressive form of breast cancer. She went through chemotherapy, but continued to work at the office. On January 3, 2006, she was hospitalized by side effects from her chemotherapy and was not able to return to work. Carolyn passed away on May 4, 2007.
The firm has gone through many changes in its 30 year history, but has remained strong in its commitment to our clients and community, as well as our family.